Un-Gala
Update this content.
Announcing CSAIR's first
(and hopefully last)
UN-GALA

June 14, 2020
Six O'Clock in the Evening

Help us reach our goal of $25,000

Why are we doing this? First, we miss seeing you while the doors of CSAIR remain closed by the unprecedented Coronavirus health crisis and look forward to the day when we can be together again. Second, while our physical building is closed our shul remains a vibrant source of support and programming for our community, and needs your financial support now more than ever!
Keeping those virtual doors open requires significant financial resources. June normally marks the time when we come together for our annual Spring Gala; an event of community celebration that is also an essential fundraiser for the shul. We aim to raise $25,000, by asking everyone to donate $100 per person or $180 per family, to replace the net donation to the synagogue from every Gala ticket in a normal year.
So join us at the unGala as we: support, unite and celebrate our amazing community! You can participate and support CSAIR and our un-Gala by:
Purchasing an unTicket ($100 per person or $180 per couple, replaces net donation to synagogue for each ticket)
Purchasing an ad in our virtual Emunah Journal: These ads can be used: to thank a hero in your life, send a message of hope, celebrate a life-cycle event, milestone or share your vision for 2020.
Funds raised are essential for us to balance our budget, continue to pay our staff their salaries, continue our virtual programming, continue to support our community and ensure that we can seamlessly reopen our building when the crisis has passed.
Please support CSAIR. Mark your calendar and join us on June 14th. Let's together close the end of the year gap in our budget and keep our virtual doors open! Further details regarding the event are forthcoming.
Ellen Goldberg and Bernie Goldstein
CSAIR Un-Gala Co-chairs
*All members of the congregation are welcome to join us at the Un-Gala regardless of making a donation. We hope to see you all there!
Thu, May 28 2020
5 Sivan 5780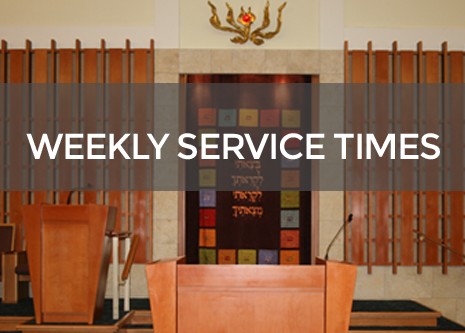 Friday, August 23, 2019
Minha/ Kabbalat Shabbat/Maariv, 7:00 PM
Afternoon/Shabbat Evening services.
~ Beit HaMidrash-Downstairs
Candle lighting 7:24 PM
Saturday, August 24, 2019
Shaharit, 9:00 AM
Morning service.
~ Sanctuary-Upstairs
Minha/Maariv, 7:24 PM
Afternoon/Evening services.
~ Beit HaMidrash-Downstairs

Havdalah, 8:24 PM
Zmanim
| | |
| --- | --- |
| Alot Hashachar | 4:42am |
| Earliest Tallit | 6:11am |
| Netz (Sunrise) | 9:34am |
| Latest Shema | 10:43am |
| Zman Tefillah | 10:43am |
| Chatzot (Midday) | 12:58pm |
| Mincha Gedola | 1:32pm |
| Mincha Ketana | 4:56pm |
| Plag HaMincha | 6:21pm |
| Shkiah (Sunset) | 7:46pm |
| Tzeit Hakochavim | 8:29pm |
Thu, May 28 2020 5 Sivan 5780