Celebrating Kiddush by Profession!
SPONSOR THE FEBRUARY 22

(Parshat Mishpatim)




Lawyers KIDDUSH
Kiddush is a great way for our community to connect to one another!
Thank you for your generously helping to sponsor kiddush at CSAIR.
WELCOME TO CSAIR
We are an inclusive, egalitarian congregation dedicated to Torah -- Jewish learning, Avodah -- prayer and observance, and Gemilut Chasadim -- acts of kindness and social responsibility. Our members include people of diverse ages, backgrounds, sexual orientations, gender identities, income levels and approaches to religious practice and thought. We are individuals. We are single parent, double parent, interfaith, multiracial, empty nester, blended families and more. Whoever you are, we welcome you to learn, pray, and create a community with us.
For SERVICE INFORMATION, please see below or view the

Calendar or Shabbat Bulletin
The Office Schedule is as Follows:
Sunday, February 16: Closed
Monday, February 17: Closed (Presidents Day)
Sunday, February 23: Closed
____________________
Lechu Dinner
Friday, February 14 at 5:45 PM
2023 Bar/Bat Mitzvah Dates
We will assign 2023 bar/bat mitzvah dates in the near future. If your child will turn 13 in 2023 please send their name and date of birth (English and Hebrew if you know it) to Rabbi Greenberg by Friday, February 14th.
Open Beit Midrash: Contentious Community
Saturday, February 29 at 12:15 PM
Go here for all the details about our open beit midrash.
Intimate Voices final concert of Season 11
Saturday February 29, 8:00 PM
NOTES OF INTEREST

---
Make A Minyan,
Make A Difference!

Mornings
M-F 7:00 AM
Sundays 9:00 AM
Evenings
Sun.-Thurs. 7:30 PM
Legal Holidays
9:00 AM
New Year's Day, Presidents Day, Memorial Day, July 4, Labor Day, Thanksgiving, December 25
High Holiday Seating Focus Groups
Members are invited and encouraged to attend a Focus Group to further discuss the question of CSAIR High Holiday seating. Within these groups, we will have the opportunity to listen to each other and share our views, experiences and thoughts. How can we best fulfill our mission of "nourishing joyful and meaningful Jewish learning and build an inclusive community" - what seems most inclusive, most inviting and comfortable so that the focus can be on davening and be a spiritual, uplifting experience along with friends, family and the bigger CSAIR community? It is an opportunity to respectfully explore this together, acknowledging passions, traditions & strong feelings exist around this question. There are six opportunities to come to a focus group.
We want to hear from people who like the idea of a change, those who don't, and those who just want to hear/ask questions.
Last Session: Sunday February 23 at 10:00 AM
SERVICE INFORMATION
Friday, February 14, 2020 (12 Shevat)
Lechu Neranena, 5:45 PM
An intimate, spirited Kabbalat Shabbat service. Come ready to sing and welcome Shabbat, then stay for a catered Shabbat dinner. Reservations required.
~ Library-Upstairs
Candle lighting 5:11 PM
Saturday, February 15, 2020 (13 Shevat)
Shaharit, 9:00 AM
Morning service.
~ Sanctuary-Upstairs
Shabbat Shelanu, 10:45 AM
For kids age 0-4 and their parents. Includes tefillot (prayers), songs, storytelling, a Torah Parade, and schmoozing time.
~ Taub Room-Downstairs
Tefilat Yeladim, 10:45 AM
For kids ages 4-6, adults welcome. An interactive service featuring movement, stories and songs.
~ Board Room-Downstairs
HaMoadon, 10:45 AM
For kids ages 7-11 and led by teens. Services include games, Jewish learning and group building experiences.
~ Beit HaMidrash-Downstairs
Yiddish Vinkl, 12:30 PM
~ Board Room-Downstairs
Minha/Maariv, 5:11 PM
~ Beit HaMidrash-Downstairs
Havdalah, 6:11 PM
Programming & Education
Learning for adults, teens and youth
Printed Guide
Why attend a class, program or service? Rabbi Yehoshua ben Perachya offers one rationale. Speaking to Jews in the second century BCE, he said, "Find yourself a teacher and make a friend." (Avot 1:6) It is still good advice. So often today, people list loneliness and lack of community as some of the biggest challenges in their lives. We chose Rabbi Yehoshua's words as the theme for this year's education and programming book for this reason.
Gerson D. Cohen Institute for Adult Education Learning
Young Children's Family Programs

Torah for Today: Parshat HaShavua
Tuesday mornings, 10:30 AM
Next Steps: Hebrew and Synagogue Skills
Thursdays, 8:00 PM
Try Israel's First Ever Single Malt
Thursday, February 27, 8:00 PM
The Men's Club first annual Our Jewish Spirit Event.
Open Beit Midrash: Contentious Community
Saturday, February 29 at 12:15 PM
Intimate Voices final concert of Season 11
Saturday February 29, 8:00 PM
UPCOMING PROGRAMS
All Events
Tuesday

,

Feb

February

18

,

2020

Rabbi's Class


Tuesday, Feb 18th

10:30a

to

12:00p




Each week we will look at selections from the Parshat Hashavua for the coming weekend along with ancient and modern commentary. Our learning will focus on deep understanding and connecting the themes of the weekly reading to what is going on today in our lives. No experience necessary. All texts provided in English along with the Hebrew version. Free to Sisterhood members and members of CSAIR affiliates. Nominal fee for others. Sponsored by Sisterhood (but open to men and women!)

Saturday

,

Feb

February

22

,

2020

Lawyers Kiddush Registration
Shabbat, Feb 22nd (All day)


KIDDUSH IS A GREAT WAY FOR OUR COMMUNITY TO CONNECT TO EACH OTHER. THANK YOU FOR GENEROUSLY HELPING TO SPONSOR KIDDUSH!

Saturday

,

Feb

February

22

,

2020

Minyan Kivinu


Shabbat, Feb 22nd

9:00a

to

11:30a




This service focuses on full traditional liturgy incorporating spirited singing and minimal interruptions during service. The goal will be to create a sense of intense focus on the davvening. Both Siddur Sim Shalom and the Koren Siddur will be available for use by participants along with the Humash Etz Hayim. At the end of services, there will be a 30-minute shiur (class) on the topic of interest.
ZMANIM
Alot Hashachar
5:26a
Earliest Tallit
5:57a
Netz (Sunrise)
6:48a
Latest Shema
9:28a
Zman Tefillah
10:23a
Chatzot (Midday)
12:10p
Mincha Gedola
12:37p
Mincha Ketana
3:18p
Plag HaMincha
4:25p
Shkiah (Sunset)
5:32p
Tzeit Hakochavim
6:14p
More >>
INCLUSION
If any accommodations are needed for you or a loved one to participate in any synagogue activities, please contact Estefany Tavarez at 718-543-8400 x 0 or operations@csair.org.
Learn more about CSAIR's inclusion here.
____________________________________________________________
New to Riverdale or to CSAIR? We are so glad you are here!
For questions about getting involved at CSAIR, please contact Director of Engagement and Programming Rabbi Katie Greenberg at 718-543-8400 (ext. 1) or at engagement@csair.org.
Mon, February 17 2020
22 Shevat 5780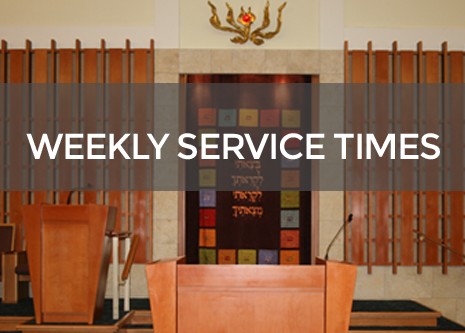 Friday, August 23, 2019
Minha/ Kabbalat Shabbat/Maariv, 7:00 PM
Afternoon/Shabbat Evening services.
~ Beit HaMidrash-Downstairs
Candle lighting 7:24 PM
Saturday, August 24, 2019
Shaharit, 9:00 AM
Morning service.
~ Sanctuary-Upstairs
Minha/Maariv, 7:24 PM
Afternoon/Evening services.
~ Beit HaMidrash-Downstairs

Havdalah, 8:24 PM
Zmanim
| | |
| --- | --- |
| Alot Hashachar | 4:42am |
| Earliest Tallit | 6:11am |
| Netz (Sunrise) | 9:34am |
| Latest Shema | 10:43am |
| Zman Tefillah | 10:43am |
| Chatzot (Midday) | 12:58pm |
| Mincha Gedola | 1:32pm |
| Mincha Ketana | 4:56pm |
| Plag HaMincha | 6:21pm |
| Shkiah (Sunset) | 7:46pm |
| Tzeit Hakochavim | 8:29pm |
Mon, February 17 2020 22 Shevat 5780