WELCOME TO CSAIR
We are an inclusive, egalitarian congregation dedicated to Torah -- Jewish learning, Avodah -- prayer and observance, and Gemilut Chasadim -- acts of kindness and social responsibility. Our members include people of diverse ages, backgrounds, sexual orientations, gender identities, income levels and approaches to religious practice and thought. We are individuals. We are single parent, double parent, interfaith, multiracial, empty nester, blended families and more. Whoever you are, we welcome you to learn, pray, and create a community with us.
For service times, please see SERVICE INFORMATION below or view the

Calendar or Shabbat Bulletin.
---

High Holidays
For everything High Holiday 2019/5780 please visit our high holiday portal!
---
NOTES OF INTEREST
Lechu Dinner
Friday, October 18, 6:00 PM
Register by October 16 at Noon.
---
Make A Minyan,
Make A Difference!

Mornings
M-F 7:00 AM
Sundays 9:00 AM
Evenings
Sun.-Thurs. 7:30 PM
Legal Holidays
9:00 AM
New Year's Day, Presidents Day, Memorial Day, July 4, Labor Day, Thanksgiving, December 25

Lechu Neranena Services and Dinner in the Sukkah: Friday, October 18, 6:00 PM
An intimate, spirited Kabbalat Shabbat service. Come ready to sing and welcome Shabbat, then stay for a catered Shabbat dinner in the Sukkah. Pre-paid reservations required for dinner. Click here to register.
Programming & Education
Learning for adults, teens and youth
Why attend a class, program or service? Rabbi Yehoshua ben Perachya offers one rationale. Speaking to Jews in the second century BCE, he said, "Find yourself a teacher and make a friend." (Avot 1:6) It is still good advice. So often today, people list loneliness and lack of community as some of the biggest challenges in their lives. We chose Rabbi Yehoshua's words as the theme for this year's education and programming book for this reason. - read more
View Gerson D. Cohen Institute for Adult Education Learning
First program begins Thursday, October 24.
Young Children's Family Programs
First program, Sunday, October 20.

A Special Tallit Project in Time for Simhat Torah
Skilled volunteers will hand embroider the names of children on a large size Tallit to be used on the bima as a canopy during the annual children's blessing.
For $10 per name, a child's name may be added to this special Tallit. The Tallit will be displayed and used during our beautiful tradition of the children's aliyah on Simhat Torah.
For more information contact the Sisterhood or pick up a flier in the lobby to have a name added.
UPCOMING PROGRAMS
All Events
Yom Tov Ends


Tuesday, Oct 15th

7:00p




Hebrew School Day


Wednesday, Oct 16th

4:00p

to

6:00p




Lechu Dinner


Friday, Oct 18th

6:00p




Lechu Neranena Dinner. An intimate, spirited Kabbalat Shabbat service. Come ready to sing and to welcome Shabbat with members of our community, then, stay for a catered Shabbat dinner.
ZMANIM
Alot Hashachar
5:44a
Earliest Tallit
6:16a
Netz (Sunrise)
7:06a
Latest Shema
9:53a
Zman Tefillah
10:49a
Chatzot (Midday)
12:41p
Mincha Gedola
1:09p
Mincha Ketana
3:57p
Plag HaMincha
5:07p
Candle Lighting
6:59p
Shkiah (Sunset)
6:17p
Tzeit Hakochavim
6:58p
More >>
INCLUSION
If any accommodations are needed for you or a loved one to participate in any synagogue activities, please contact Estefany Tavarez at 718-543-8400 x 0 or operations@csair.org.
Learn more about CSAIR's inclusion here.
____________________________________________________________
New to Riverdale or to CSAIR? We are so glad you are here!
For questions about getting involved at CSAIR, please contact Director of Engagement and Programming Rabbi Katie Greenberg at 718-543-8400 (ext. 1) or at engagement@csair.org.
Mon, October 14 2019
15 Tishrei 5780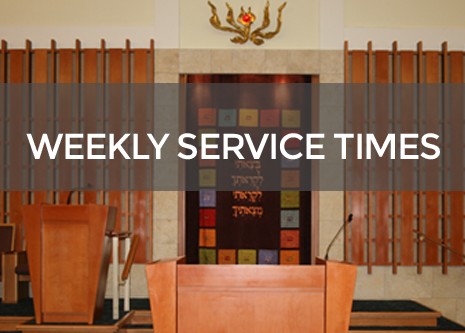 Friday, August 23, 2019
Minha/ Kabbalat Shabbat/Maariv, 7:00 PM
Afternoon/Shabbat Evening services.
~ Beit HaMidrash-Downstairs
Candle lighting 7:24 PM
Saturday, August 24, 2019
Shaharit, 9:00 AM
Morning service.
~ Sanctuary-Upstairs
Minha/Maariv, 7:24 PM
Afternoon/Evening services.
~ Beit HaMidrash-Downstairs

Havdalah, 8:24 PM
Zmanim
| | |
| --- | --- |
| Alot Hashachar | 4:42am |
| Earliest Tallit | 6:11am |
| Netz (Sunrise) | 9:34am |
| Latest Shema | 10:43am |
| Zman Tefillah | 10:43am |
| Chatzot (Midday) | 12:58pm |
| Mincha Gedola | 1:32pm |
| Mincha Ketana | 4:56pm |
| Plag HaMincha | 6:21pm |
| Shkiah (Sunset) | 7:46pm |
| Tzeit Hakochavim | 8:29pm |
Mon, October 14 2019 15 Tishrei 5780