WELCOME TO CSAIR
We are an inclusive, egalitarian congregation dedicated to Torah -- Jewish learning, Avodah -- prayer and observance, and Gemilut Chasadim -- acts of kindness and social responsibility. Our members include people of diverse ages, backgrounds, sexual orientations, gender identities, income levels and approaches to religious practice and thought. We are individuals. We are single parent, double parent, interfaith, multiracial, empty nester, blended families and more. Whoever you are, we welcome you to learn, pray, and create a community with us.
For service times, please see SERVICE INFORMATION below or view the

Calendar or Shabbat Bulletin.
---

High Holidays
For everything High Holiday 2019/5780 please visit our high holiday portal!
---
NOTES OF INTEREST
Lulav & Etrog Orders
Please place your order no later than Wednesday, October 2
Pick-Up Dates:
Friday, Oct. 11, 9:00 AM - 1:00 PM Sunday, Oct. 13 9:30 AM- 1:00 PM
Register for Hebrew School
Questions?
Contact Mason Voit, Director of Education and Jewish Family Life, educationdirector@csair.org.
SERVICE INFORMATION

Friday, September 20 (20 Elul)
Shabbaton, 6:00 PM
Joey Weisenberg will lead a musically and spiritually uplifting Kabbalat Shabbat service, followed by a catered Shabbat dinner. Afterwards, Founder and Co-Director of the Hadar Rising Song Institute Joey Weisenberg will discuss "The Art of the Niggun".
Pre-paid reservations required for dinner.
~ Sanctuary-Upstairs
Candle lighting 6:39 PM
---
Saturday, September 20 (21 Elul)
Shaharit, 9:00 AM
Morning service. Joey Weisenberg will lead services and deliver the Dvar Torah.
~ Sanctuary-Upstairs
Minyan Kivinu, 9:00 AM
Full traditional liturgy, spirited singing, and minimal interruptions aimed at creating an intense focus on the davvening. A 30 minute shiur (class) follows the service.
~ Library-Upstairs
Shabbat Shelanu, 10:45 AM
For kids age 0-4 and their parents. Includes tefillot (prayers), songs, storytelling, a Torah Parade, and schmoozing time.
~ Taub Room-Downstairs
Tefilat Yeladim, 10:45 AM
For kids ages 4-6, adults welcome. An interactive service featuring movement, stories and songs.
~ Board Room-Downstairs
HaMoadon,10:45 AM
For kids ages 7-11 and led by teens and pre-teens. Services will include games, Jewish learning and group building experiences.
~ Beit HaMidrash-Downstairs
Niggun Circle with Joey Weisenberg, 12:15 PM
~ Social Hall-Upstairs
Minha 6:39 PM
Afternoon service.
~ Sanctuary-Upstairs
Havdalah, 7:39 PM
Selichot Concert and Service at Beth El New Rochelle, 8:45 PM
An evening of music and reflection with Joey Weisen-berg and the Hadar Ensemble, featuring CSAIR's own Deborah Sacks Mintz. This program is being co-sponsored by CSAIR and Beth El New Rochelle. The program will be held at Beth El New Rochelle, 1324 North Avenue, New Rochelle, NY 10804. CSAIR will be providing free
transportation to and from New Rochelle. Please come to CSAIR by 8:15 PM for a ride.
Make A Minyan,
Make A Difference!

Mornings
M-F 7:00 AM
Sundays 9:00 AM
Evenings
Sun.-Thurs. 7:30 PM
Legal Holidays
9:00 AM
New Year's Day, Presidents Day, Memorial Day, July 4, Labor Day, Thanksgiving, December 25
Programs this Upcoming Weekend



Shabbaton and Selichot with
Joey Weisenberg
Friday & Saturday, September 20-21
Register for Event
Registration closes Wednesday September 18
Join us for an engaging Rising Song Shabbaton to experience the power of communal Jewish song. Led by Joey Weisenberg, founder and co-director of Hadar's Rising Song Institute, Shabbat will focus on the intersection of music, spirituality, and prayer. Our intention is to raise the musical-spiritual artistry of all members of our Shabbat community, and we encourage you to join in the Rising Song Institute's ongoing exploration of the dynamics and power of communal music making.
---
CSAIR Book Discussion Group: Kaddish.com, by Nathan Englander
Sunday, September 22, 10:30 AM
Larry is the secular son in a family of Orthodox Brooklyn Jews. When his father dies, it's his responsibility to recite the Kaddish, the Jewish prayer for the dead, every day for eleven months. To the horror and dismay of his sister, Larry refuses-imperiling the fate of his father's soul. To appease her, Larry hatches an ingenious if cynical plan, hiring a stranger through a website called kaddish.com to recite the prayer and shepherd his father's soul safely to rest.
Free and open to all.
Coordinated by Sharon Kern-Taub.
---
Riverdale BBYO Guac-off Mexican Dinner
Sunday, September 22, 4:30 - 6:00 PM
Riverdale BBYO will be hosting their 2nd annual Guac-off and Mexican dinner. The event will take place at CSAIR and is a great place to meet other Jewish teens! It is free and open to any Jewish teen in grades 8-12. Dinner will be Glatt Kosher (meat) RSVP Here.

A Special Tallit Project in Time for Simhat Torah
Skilled volunteers will hand embroider the names of children on a large size Tallit to be used on the bima as a canopy during the annual children's blessing.
For $10 per name, a child's name may be added to this special Tallit. The Tallit will be displayed and used during our beautiful tradition of the children's aliyah on Simhat Torah.
For more information contact the Sisterhood or pick up a flier in the lobby to have a name added.
ZMANIM
Alot Hashachar
5:19a
Earliest Tallit
5:51a
Netz (Sunrise)
6:41a
Latest Shema
9:44a
Zman Tefillah
10:46a
Chatzot (Midday)
12:49p
Mincha Gedola
1:19p
Mincha Ketana
4:23p
Plag HaMincha
5:40p
Candle Lighting
6:39p
Shkiah (Sunset)
6:57p
Tzeit Hakochavim
7:37p
More >>
INCLUSION
If any accommodations are needed for you or a loved one to participate in any synagogue activities, please contact Estefany Tavarez at 718-543-8400 x 0 or operations@csair.org.
Learn more about CSAIR's inclusion here.
____________________________________________________________
New to Riverdale or to CSAIR? We are so glad you are here!
For questions about getting involved at CSAIR, please contact Director of Engagement and Programming Rabbi Katie Greenberg at 718-543-8400 (ext. 1) or at engagement@csair.org.
Fri, September 20 2019
20 Elul 5779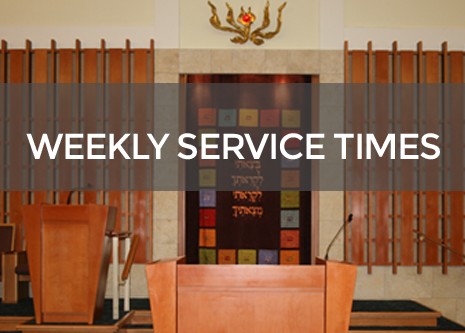 Friday, August 23, 2019
Minha/ Kabbalat Shabbat/Maariv, 7:00 PM
Afternoon/Shabbat Evening services.
~ Beit HaMidrash-Downstairs
Candle lighting 7:24 PM
Saturday, August 24, 2019
Shaharit, 9:00 AM
Morning service.
~ Sanctuary-Upstairs
Minha/Maariv, 7:24 PM
Afternoon/Evening services.
~ Beit HaMidrash-Downstairs

Havdalah, 8:24 PM
Zmanim
| | |
| --- | --- |
| Alot Hashachar | 4:42am |
| Earliest Tallit | 6:11am |
| Netz (Sunrise) | 9:34am |
| Latest Shema | 10:43am |
| Zman Tefillah | 10:43am |
| Chatzot (Midday) | 12:58pm |
| Mincha Gedola | 1:32pm |
| Mincha Ketana | 4:56pm |
| Plag HaMincha | 6:21pm |
| Shkiah (Sunset) | 7:46pm |
| Tzeit Hakochavim | 8:29pm |
Fri, September 20 2019 20 Elul 5779