Gala 2023 Honorees
---
Abby & Michael Pitkowsky
When Michael and Abby were looking for a place to live before their upcoming marriage in 1991, they chose Riverdale because it seemed to be the most convenient location. It was almost equidistant between Abby's job at the Solomon Schechter Day School of Westchester, now The Leffell School, and Michael's job at JTS in Manhattan. At the time they didn't know that this convenient location would eventually become their home for more than twenty years.
Soon after moving to Riverdale, they began to attend Shabbat services at CSAIR, becoming active members of the Havurah. In the summer of 1993, they fulfilled their dream of making aliyah to Israel. Over the nine years that they lived there, their family grew to include a sabra son and daughter, Roni and Noa. While in Israel Abby worked in the field of Jewish education for the American Jewish Joint Distribution Committee, often traveling to Jewish communities ranging from Azerbaijan to Zagreb. Michael received his rabbinic ordination from the Schechter Institute of Jewish Studies, served as a pulpit rabbi for two years in Jerusalem, and taught at the Schechter Institute and the Conservative
Yeshiva.
In 2002 Abby and Michael returned to America for what they thought were a few short years to allow Michael to complete his doctorate at JTS. Without hesitation, they chose Riverdale as their destination. A few short years turned into twenty years and while the distance from Israel hasn't been easy, the welcoming and vibrant community of CSAIR has been wonderful for them and their family. Both Roni and Noa became b'nei mitzvah at CSAIR, attended SAR, and all of them came to see CSAIR as a second home.
During their time at CSAIR, Michael and Abby have become active members of the synagogue community, both filling roles when needed and initiating as well. Their involvement ranges from reading Torah and leading services, teaching, being a Team Leader for CSS, serving on numerous committees such as Adult Education, Education, the Israel Committee, the Executive Committee, and let's not forget, being President for four years.
Michael works in the field of higher education, serving as Manager of Enrollment Analytics, and oversees the use of SalesForce at St. Francis College in Brooklyn, NY. Abby works in Jewish Education and is the Program Director at The Covenant Foundation, based in New York City.
Over their time at CSAIR they have made lasting and meaningful friendships. They feel blessed to be members of a synagogue with such a devoted and talented staff and clergy who embody the meaning of klei kodesh, instruments of holiness. They feel humbled to have been asked to be one of the honorees at this year's Gala and are flattered to share it with the other honorees.
---
Craig and Andrea Robins
It is easy for Craig and Andrea to talk about the roots they have put down in both CSAIR and the Riverdale community.
Andrea can trace her time back to when she was in 6th grade, and moved to Riverdale from the Marble Hill projects, with her parents Charlotte and Harold Pann (Zichronam L'bracha), and her younger brother Arthur (Zichrono L'bracha), and younger sister Janis. In fact, while living in the Marble Hill projects, Andrea attended PS 7, with Rabbi Katie Greenberg's father Martin Greenberg, and, Andrea and Craig's daughter Kerin went to Spuyten Duyvil Infantry nursery school with Katie's brother Ben, where Marty and Andrea reconnected.
While not being the oldest member of the congregation, thanks to her father's desire to be connected and affiliated with a shul immediately after moving to Riverdale, Andrea is ready to attest to being at least one of the longest-time members of CSAIR... going back to when we were known as The Conservative Synagogue of Riverdale, and when the new congregation met first at the old Horace Mann dormitory, and later moved to the brand new building in which CSAIR has grown and thrived.
Janis and Arthur were b'nai mitzvot at CSAIR; Charlotte and Harold were active members of the Mr. and Mrs. Club, and Andrea served as President of the Youth Group. Andrea clearly remembers celebrating the British "invasion" by welcoming Rabbi and Mrs. Pearl, and their children, to their new home at CSAIR. Her best friend was Ilona Ross, whose father Jack Ross and mother Madga were the first honorees at a Conservative Synagogue dinner event.
Craig and Andrea were married in 1980, and they never cease to be pleased to see the Book of Remembrance, just outside the Sanctuary, seemingly permanently opened to the page commemorating that magical date. Subsequent to their marriage, they chose to remain in Riverdale, where their children Kerin and Tyler were born and raised.
Kerin and Tyler (sometimes known as Zeke??) attended the CSAIR Hebrew School and were both bnai mitzvot at CSAIR. For many years, Andrea served on the Hebrew School Board, and later as Secretary of the Shul Board. Kerin and Tyler babysat at times for Rabbi and Shoshi's children - further strengthening the ties that bind - and today, Kerin lives in Manhattan, teaches, runs family events, and helps run Camp Settoga, at the JCC on the UPW in Manhattan; Tyler lives in Hudson New York where he cooks and is part of a startup concrete design business, looking to build affordable housing for those in need. Andrea and Craig are thrilled they still come home to visit as often as possible.
Over many years, and through many events, fundraisers for the Hebrew School were enhanced and enriched by the wonderful music offered by the Traveling Jewburys (the TJs), of which Craig has played bass and lead guitar since the band's inception 30+ years ago. The TJs was - and today still is - comprised of parents of (long since grown) students of the CSAIR Hebrew School, and these roots and connections that tie us to many in the shul, reflect long-time friendships that get better over the years. The TJs practice almost weekly at Craig and Andrea's house, and they are so good, none of their neighbors have ever asked them to "quiet down" as they play well into late Sunday evenings. Craig saw the potential of the space that is now the Library and meeting room being more than the storage space it was, and he was thrilled when it came to be, thanks to the efforts of many. Craig is a regular attendee at Thursday morning minyan, and as a result, the circles of friendship have grown and blossomed to include both old friends and new ones, all of whom are treasured parts of Andrea and Craig's rich life in Riverdale. Andrea and Craig joined Rabbi Katz and many other shul couples on an amazingly satisfying trip to Israel several years ago; enjoying seeing the beauty, history, majesty, and magic of Israel thanks to the Rabbi's ability to share his own personal love and feelings for Israel with all of us; they traveled in the company of many friends also on the trip, while making new great friends who are part of their lives today.
Craig grew up in Lake Mohegan with his wonderful parents, Doris and Danny Robins (Zichronam L'bracha), and his sister Jill. Doris and Danny attended shul with Craig and Andrea, usually followed by holiday meals at Craig and Andrea's table.
Craig and Andrea continue to work today, Craig as a Program Developer for Arch Insurance, and Andrea as the Director of Customer Service for Saks Fifth Avenue. They are kept quite busy with work; Craig also loves to make, play, and enjoy music, and he does it masterfully, with The TJs, and on his own. Andrea loves to garden, cook and bake, listens to music, and they both love the "home" they have created in Riverdale. They welcome family, friends, and sometimes even strangers who magically become great friends, to their home whenever possible, oftentimes for good music and great food, and they look forward to many opportunities to do more of the same, in the future.
---
Ariella Perkes-Schreiber & Kevin Schreiber
The move from Midwood Brooklyn to Riverdale, in 2017, for Kevin and Ariella was a bit of a leap of faith. Married a year and pregnant, they were looking for a home and a strong, Conservative Jewish community in which they could feel comfortable and raise their family. On their first Shabbat in Riverdale, they attended CSAIR and immediately knew they had found their shul.
Jewish identity has always played an important role in Ariella's life growing up, with her family being active members of a conservative shul in Commack, Long Island, as an alumna of Solomon Schechter Day School of Suffolk County, and as a camper at Camp Ramah in the Berkshires. Kevin, a Miami native, came to CSAIR having grown up with a background in Reform Judaism and a great appreciation of Shabbat family dinners and friend-filled Chanukah and Passover celebrations. After having studied with more observant friends as a young adult, Kevin's love of Judaism continued to grow as did his desire to establish roots in a more traditional community. To Ariella and Kevin, CSAIR has felt like an ideal fit.
What quickly became apparent to Ariella and Kevin in those early months at CSAIR, was the warmth and generosity of the congregation. With the arrival of both of their sons, Ariella and Kevin were overwhelmed by the food deliveries that were organized on their behalf. During such frenzied times, the meals were such a helpful relief and affirmed the kindness of the community they had chosen. Once feeling a little more grounded, Ariella sought out the Chesed community to help contribute to meal distribution for growing families and those who could use a little extra support, and to be part of the amazing group of people that had given so much to her.
Feeling particularly passionate about fostering a love of Judaism and a sense of community for their children, Ariella and Kevin quickly became active participants in the YCFP community. In 2018, Ariella became a YCFP Co-chair and dove deep into ice cream kiddushes, Shabbat, and holiday activity organizing along with Josh Binstock and Minda Lee Arrow. With COVID posing a bit of an obstacle, the co-chairs worked hard to keep families engaged and the community thriving. Ariella was honored to serve in this role for over 3 years. Over the years, Ariella has also volunteered in other capacities such as gala fundraising and community outreach efforts, and is very excited to begin her new volunteer venture as a Greeter, where she looks forward to welcoming members and guests on Shabbat morning.
In Kevin's interest in participating in this community, he has been involved in providing security for the members of the congregation. Kevin has been fortunate to train with the highly skilled CSS team and has served as security for several holidays and Shabbatot. He looks forward to continuing his participation as a member of the team. Additionally, Kevin has been able to use his experience in real estate operations and construction to advise on some of the large capital projects upon which the shul is embarking. Further, he helped to spearhead a recent construction project at the Rabbi's house. Whenever consulted, Kevin is happy to lend his time, effort, and connections to the Shul's many infrastructure projects.
Ariella and Kevin came to Riverdale hoping to find a Jewish community in which they could raise their children and are both so grateful to have found so much more. In CSAIR they have found a village and a spiritual home for their family.
Thu, June 1 2023
12 Sivan 5783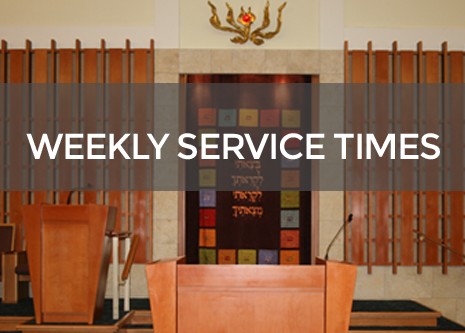 Friday, August 23, 2019
Minha/ Kabbalat Shabbat/Maariv, 7:00 PM
Afternoon/Shabbat Evening services.
~ Beit HaMidrash-Downstairs
Candle lighting 7:24 PM
Saturday, August 24, 2019
Shaharit, 9:00 AM
Morning service.
~ Sanctuary-Upstairs
Minha/Maariv, 7:24 PM
Afternoon/Evening services.
~ Beit HaMidrash-Downstairs

Havdalah, 8:24 PM
Zmanim
| | |
| --- | --- |
| Alot Hashachar | 4:42am |
| Earliest Tallit | 6:11am |
| Netz (Sunrise) | 9:34am |
| Latest Shema | 10:43am |
| Zman Tefillah | 10:43am |
| Chatzot (Midday) | 12:58pm |
| Mincha Gedola | 1:32pm |
| Mincha Ketana | 4:56pm |
| Plag HaMincha | 6:21pm |
| Shkiah (Sunset) | 7:46pm |
| Tzeit Hakochavim | 8:29pm |
Thu, June 1 2023 12 Sivan 5783