Stories of Israel
STORIES OF ISRAEL
A journey to the heart of Israel
The Anne Klaber Memorial L'dor Va Dor Lecture Series


Sponsored by Stephen and Mona Klaber and family
Sunday, April 18 - Sunday, April 25
Come have an encounter with Israel unlike any other. Through personal stories, we will confront the larger issues facing Israeli and Jewish society today: Race, Gender, Religious Pluralism, Sexual Identity, Palestinian Identity, the IDF, and Immigration.
During each session, we will watch a short documentary on an Israeli personality, then a lecture about the underlying topic, followed by a live Q & A with the person from the documentary.
Check email for Zoom credentials or email

hosting@csair.org

.

An encounter with Israel unlike any other.
Meet:

Brhan Vorko
Sunday, April 18, 8:30 PM
Born in Addis Ababa, Brhan moved to Israel as a young girl. At a time when questions about race are shaking the foundations of American life, Brhan provides a fresh perspective on what it means to be Black, an immigrant, and Jewish. Join Brhan as she speaks with heartbreaking honesty about the challenges and opportunities she faces as an Ethiopian Israeli.

Rabbi Tamir Nir
Monday, April 19, 8:30 PM
The son of Israeli Sephardi Jews and a former vice-mayor of Jerusalem, Tamir left his family's Orthodox lifestyle at a young age to search for his own religious identity. Join Tamir as he discusses his own struggle with his father's rejection of his non-Orthodox life, his attempts to bridge the gaps between Sephardi and Ashkenazi traditions, and his efforts to shape a modern Israeli community within the framework of the Reform Movement.

Noa Har Zahav
Tuesday, April 20, 8:30 PM
Born into a secular Israeli kibbutz family, Noa first met religious Israelis during her army service. That encounter set Noa off on a journey to deepen her connection with Judaism at the same time that her Orthodox-born husband chose to leave the traditional observance of his youth. Join Noa as she describes a fascinating new brand of Israeli Judaism not bound by strict definitions of secular and religious.

Brother Olivier
Wednesday, April 21, 8:30 PM
The son of a fiercely anti-clerical Catholic father in Southern France, Olivier went through a transformation as a young man, joining a Benedictine monastery and moving to Israel. Today, based in the Arab town of Abu Gosh, Olivier is an Israeli citizen: a volunteer in the IDF who works tirelessly to promote mutual acceptance between Christians, Jews and Muslims. Join Olivier as he tells his extraordinary life story and discusses the challenges of balancing his activism with the contemplative life of a monk.

Ilan Scheinfeld
Sunday, April 25, 3:00 PM
The son of two Holocaust survivor parents, Ilan is one of Israel's most celebrated authors and a gay single father of twin sons. Join Ilan as he speaks of his sexual identity, his parents' struggles to accept his life choices, his writing, and his deep connections with his religious Jewish heritage.
The tour is organized by Rabbi Josh Weisberg. He was raised by a Catholic mother and Jewish father in Kingston Ontario, Canada, studied philosophy and Chinese language at Wesleyan University in Middletown CT, and later earned an MA in Jewish history with an award-winning thesis on the political theory of the medieval rabbinic figure the Rosh. Rabbi Josh spent a decade studying Talmud and Jewish thought in Israeli Yeshivot, and for the past 20 years has been the director of overseas programs and a teacher of Talmud and Hasidic thought in both Hebrew and English at Nishmat in Jerusalem. Rabbi Josh has lectured internationally on the Talmud, in particular on tractate Avodah Zarah, recently lecturing at Charles University in Prague and Tubingen University. Rabbi Josh lives in Jerusalem with his wife Chana Jenny (blogger - www.Jewishmom.com) their eight children, and in his spare time is a specialty chef at the iconic Tmol Shilshom restaurant.
Wed, April 14 2021
2 Iyyar 5781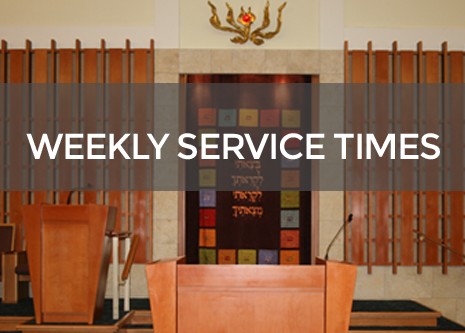 Friday, August 23, 2019
Minha/ Kabbalat Shabbat/Maariv, 7:00 PM
Afternoon/Shabbat Evening services.
~ Beit HaMidrash-Downstairs
Candle lighting 7:24 PM
Saturday, August 24, 2019
Shaharit, 9:00 AM
Morning service.
~ Sanctuary-Upstairs
Minha/Maariv, 7:24 PM
Afternoon/Evening services.
~ Beit HaMidrash-Downstairs

Havdalah, 8:24 PM
Zmanim
| | |
| --- | --- |
| Alot Hashachar | 4:42am |
| Earliest Tallit | 6:11am |
| Netz (Sunrise) | 9:34am |
| Latest Shema | 10:43am |
| Zman Tefillah | 10:43am |
| Chatzot (Midday) | 12:58pm |
| Mincha Gedola | 1:32pm |
| Mincha Ketana | 4:56pm |
| Plag HaMincha | 6:21pm |
| Shkiah (Sunset) | 7:46pm |
| Tzeit Hakochavim | 8:29pm |
Wed, April 14 2021 2 Iyyar 5781