Programming
For programs on Zoom, check your email for credentials or contact office@csair.org.

Celebrate With Us!




2023 Annual Gala




Goodness Grows at

CSAIR




Sunday

, February 5, 4:30 PM
Please support CSAIR and join us in person, via live stream, purchase a virtual journal ad, or make a donation to this year's Gala ~ Goodness Grows at CSAIR.
All the details are available in the GALA PORTAL.
If you are interested in joining the Gala planning committee, please email Hannah Rothman Welt. We would love to have your participation!
Davening Beit Midrash


Wednesday, February 8 | 7:45 PM
The Davening Beit Midrash is meant to give aspiring prayer leaders and curious shul-goers alike a greater grasp on the ins and outs of the prayers: the structure of the services, what is sung vs. chanted in nusach, what is kept in vs. sometimes left out, etc. We will use outlines with YouTube links attached for virtually every one of the prayers so you can listen and learn at your own pace. If you have questions, email Gedalia at GPennerMusic@gmail.com, or join our next session after 7:30 PM services in the library of the shul. Hope to see you there!
Shabbat Chamudim Services and Dinner


Friday, February 10 | 5:30 PM
Please join us for Shabbat Chamudim, a family-friendly Friday Night service and dinner, held at a convenient time for young children and their grown-ups. We will meet in the Taub Room at 5:30 PM for a family service, followed by dinner. The whole program will be over by 7:00 PM. RSVP here.
Mishpatim/Lawyer's Kiddush




Saturday, February 18 | 5:30 PM
CSAIR lawyers are invited to participate in the long-standing tradition of sponsoring kiddush on Shabbat Mishpatim, Saturday, February 18. Click here to make your contr
ibution online or send checks to CSAIR with "Mishpatim Kiddush" in the memo section.

ONGOING PROGRAMMING
________________________
Pirkei Avot: The Ethics of our Ancestors
with Rabbi Greenberg & Guest Speakers
Wednesdays | 10:30 AM
Next meeting, Wednesday, February 1 - Taught by Rabbi Greenberg
(Check weekly email for the next upcoming session)
What wisdom is worth passing on to the next generation? The rabbis asked this question thousands of years ago and the result is a text that continues to inspire us with its moral and ethical insight. This year join Rabbi Katz and Rabbi Greenberg to study the last three chapters of the book together. We will look at classical and modern commentary by women and men.
No experience is necessary. All texts are provided in English along with Hebrew.
Sponsored by CSAIR Sisterhood.
Contact

office@csair.org

for Zoom credentials, or check your weekly email.
________________________
Nigun Wednesdays
Wednesdays at 7:25 PM
Please join our Cantorial Intern Gedalia Penner-Robinson for "Nigun Wednesdays" at evening minyan. We'll take just about five minutes prior to 7:30 PM minyan to learn a new song and briefly use it in the service.
________________________
Israeli Dancing
Thursdays at 8:00 PM
Next meeting, Thursday, February 2
(Check weekly email for upcoming sessions)
Israeli
folk dancing has resumed in person at CSAIR on Thursday nights. Ruth Goodman teaches new dances every week. Dancing starts at 7:45 and goes on until 10 PM. Send a message to the Israeli Dance Institute,
here
, to be included on the email list for weekly updates.
________________________
Yiddish Vinkl
Sundays, 10:00 AM
(approximately 90 minutes)
Enjoy the joys of Yiddish with a group that meets to schmooze together.
For more information and to confirm meeting dates, email
Charlie Goldfischer
.
________________________
Hug Ivri
Sundays, 11:00 AM
A Hebrew discussion group to talk about politics, literature, current events, and more.
For more information and to confirm meeting dates, email
Yaakov Taitz
.
Shabbat Services & Dinners For the Year

Friday, February 10, Shabbat Chamudim | 5:30 PM
Please join us for a family-friendly Friday Night service and dinner, held at a convenient time for young children. We will meet in the Taub Room at 5:30 PM for family services, followed by dinner that will be over by 7:00 PM.

RSVP Here

.



Friday, March 17, Lechu Neranena | 6:00 PM
Join us for an intimate, spirited Kabbalat Shabbat service. Come ready to sing and welcome Shabbat, then stay for a catered Shabbat dinner beginning approximately at 6:45 PM.

Friday, April 21, Meals at Members' Houses | All over Riverdale
Meet someone new from our community! Host or join a Friday night dinner across Riverdale with members of CSAIR.

Friday, May 12th, Shabbat B'Yachad | 5:45 PM

Register Here
A new and innovative Shabbat evening experience designed to bring our diverse community together. The evening begins at 5:45 PM with a spirited traditional service OR an experiential family service for parents and kids of all ages. A festive Shabbat dinner will follow where you can meet new friends and eat delicious food.

Friday, June 2, Tzofim Israeli Scout Caravan | 6:00 PM
Caravan musical and multi-media performance for adults and children of all ages followed by singing, Kabbalat Shabbat services, and dinner.

CSAIR is again pleased to offer the full year of ScholarStream learning in 5783!
Now through May 2023, the Conservative Movement seminaries and institutions are partnering to offer seven series that will bring you face-to-face with the brightest and most engaging scholars our movement has to offer.
If you participated in any or all of the classes last year, or are new this year, enjoy the programs at no cost to our congregants.
Click here to register and use the coupon code CSAIR5783 under Event Fees.
-----------------------
Series #4: The Exodus in the Jewish Tradition: Philosophy, Bible, Midrash, and Art
Wednesdays, January 25, and February 1 at noon ET / 9 AM PT
Series #5: How the Conservative Movement's Law Committee Impacts our Lives Today
Wednesdays, February 8, 15, 22, and March 1 at 8 PM ET / 5 PM PT
Series #6: Living our Values: Social Justice and Social Action
Wednesdays, March 8, 15, 22, 29 at 8 PM ET / 5 PM PT
Series #7: Counting the Days & Making Every Day Count
Wednesdays, April 19, 26, and May 3, 10 at noon ET / 9 AM PT
Addressing Racism: Transforming Awareness Into Action
We hope to achieve greater sensitivity to and language for talking about racism but we also want to take concrete actions. We are on this journey together as a congregation. We hope to move forward thoughtfully, constructively, and with care. Whatever your knowledge base, background, or political affiliation, we are all learning together and we welcome you to join us.
Emunah Groups 2.0
Emunah groups have formed around a particular common interest and are welcoming new members. They meet approximately once a month.
Theater and music facilitated by Deborah Lupkin Ungar
Cooking/baking facilitated by Leona Chudy
Literature facilitated by Sharon Kern-Taub
Please email Rabbi Katie Greenberg to be added to any of these groups.
Fri, February 3 2023
12 Shevat 5783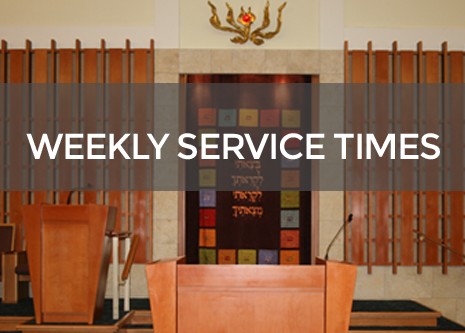 Friday, August 23, 2019
Minha/ Kabbalat Shabbat/Maariv, 7:00 PM
Afternoon/Shabbat Evening services.
~ Beit HaMidrash-Downstairs
Candle lighting 7:24 PM
Saturday, August 24, 2019
Shaharit, 9:00 AM
Morning service.
~ Sanctuary-Upstairs
Minha/Maariv, 7:24 PM
Afternoon/Evening services.
~ Beit HaMidrash-Downstairs

Havdalah, 8:24 PM
Zmanim
| | |
| --- | --- |
| Alot Hashachar | 4:42am |
| Earliest Tallit | 6:11am |
| Netz (Sunrise) | 9:34am |
| Latest Shema | 10:43am |
| Zman Tefillah | 10:43am |
| Chatzot (Midday) | 12:58pm |
| Mincha Gedola | 1:32pm |
| Mincha Ketana | 4:56pm |
| Plag HaMincha | 6:21pm |
| Shkiah (Sunset) | 7:46pm |
| Tzeit Hakochavim | 8:29pm |
Fri, February 3 2023 12 Shevat 5783