Programming
CSAIR Movie Night: The Wedding Plan
Monday, May 23 | 8:00 PM
CSAIR member, Steve Gleit will lead a discussion. As always, please watch the movie in advance of our discussion.
The Wedding Plan is available to stream as follows: Free on Paramount+, Epix, and Kanopy.
For Rental on Apple TV, Amazon Video, YouTube, and Vudu.
Click here for a review and here for an interview with the director.
The evening will be in honor of Ed Cohen z"l who was a regular attendee of CSAIR's move night.
On Zoom
---
Anne Klaber L'dor Va Dor Lecture Series The Changing Face of Online Hate


Wednesday, May 25th | 8:00 PM
Rick Eaton has been researching hate and hate groups for the Simon Wiesenthal Center for 36 years and currently is the Center's Director of Research. As Co-Director of the Center's Digital Terrorism and Hate Project, he has supervised the production of all 23 editions of the Digital Terrorism and Hate interactive report. Rick regularly meets with Facebook, Twitter, Google/YouTube, and other social networking companies to give feedback and assist in shaping policy. Rick has worked extensively with California P.O.S.T. (Peace Officer Standards and Training) and been a subject-matter expert on 11 educational "Tele-Courses" produced by P.O.S.T. and the U.S. Department of Homeland Security. Rick has twice testified in Congressional hearings and participated in many briefings on Capitol Hill. In his 36 years with SWC he has conducted hundreds of training sessions with law enforcement, educators, civic groups, and schools.
Learn more.
On Zoom
---
Illustrious Women of CSAIR


Wednesday, June 1 | 8:00 PM
Come hear Rabbi Greenberg, Cantor Stevens, and Shoshi Talesnick talk about their experiences as leaders in the CSAIR community.
Susan Schwartz will be moderating the conversation.
Sponsored by the CSAIR Sisterhood
On Zoom
Save the Date!




TRUE COLORS


Sunday, June 26 | 8:00 PM
Celebrating Jews of Color
TRUE COLORS, a salon theatre show in which Jews of Color share true stories about their yearning for belonging and the rich and complicated question that is identity. While all people face challenges and struggles, Jews of Color have many touching and unique stories to tell about resilience, self-respect, and celebrating the many colors and voices in our community.
The stories in TRUE COLORS, ostensibly about Jews who feel "different," actually remind us how very much alike we are. In TRUE COLORS, audiences will meet unforgettable characters who tell personal stories about how they see themselves and how others see them. Ironically, while many American Jews can reach consensus about a commitment to social justice for others, they do not always embrace diversity in their own community. The enlightening show will explore the impact of living as Jews of Color when inclusion and equity are not always practiced in the Jewish community.
"We are proud to spotlight the experiences of Jews of Color." said Ronda Spinak, The Braid's Artistic Director. "These are poignant and moving stories of questioning, of feeling like the outsider, of committing to Judaism…quintessential and universal Jewish stories!"
In TRUE COLORS, audiences will hear the story of a daughter of a Jewish mother and a Black/Chinese father and how she was taught to embrace her diversity, and have confidence that the world would embrace it as well. They will hear about a woman torn between her Jewish heritage and her Latin one, struggling to find her place in either culture. And they'll learn of an African American man whose Jewishness confuses himself and others.
TRUE COLORS was created and produced by The Braid (formerly Jewish Women's Theatre) as part of its Salon Theatre season in May 2019 with material curated and adapted by Ronda Spinak, directed by Susan Morgenstern and co-produced by Eric Greene. For more information, visit the-braid.org
Check out this educational series from JTS, the RA, and UCSJ that we are co-sponsoring! You can attend any and all of the programs for free with the code: CSAIR21.
ONGOING PROGRAMMING
________________________
Torah for Today
with Rabbi Katz and Rabbi Greenberg
Every Wednesday unless otherwise noted at 10:30 AM
For generations, Jews have lived their lives in conversation with Parshat HaShavua, the weekly Torah reading. Reading about the relationships of our ancestors to each other offered us a perspective on our own families. Hearing how the ancient Israelites became a nation, gave us the language to talk about the Jewish people and our place in the world. Questions about God, morality, leadership. what it means to be a human being and live a good life are all raised in the sweep of the year's Torah reading cycle.
Each week we will look at selections from the Parshat HaShavua for the coming weekend along with ancient and modern commentary. Our learning will focus on deep understanding and connecting the themes of the weekly reading to what is going on today in our lives.
No experience is necessary. All texts are provided in English along with Hebrew.
Sponsored by the CSAIR Sisterhood.
Contact

hosting@csair.org

for more information or check your email.
What's On Our Mind: Weekly Pre-Shabbat Shmooze
Fridays at Noon - 12:30 PM
Join with staff and leadership from CSAIR for lunch and a chance to catch up before Shabbat. Feel free to bring your lunch and eat together over Zoom!
Contact
hosting@csair.org
for more information.
Yiddish Vinkl
Sundays, 10:00 AM (approximately 90 minutes)
Enjoy the joys of Yiddish with a group that meets to schmooze together.
For more information and to confirm meeting dates, email
Charlie Goldfischer
.
Hug Ivri
Sundays, 11:00 AM
A Hebrew discussion group to talk about politics, literature, current events, and more.
For more information and to confirm meeting dates, email
Yaakov Taitz
.
Addressing Racism: Transforming Awareness Into Action
We hope to achieve greater sensitivity to and language for talking about racism but we also want to take concrete actions. We are on this journey together as a congregation. We hope to move forward thoughtfully, constructively, and with care. Whatever your knowledge base, background, or political affiliation, we are all learning together and we welcome you to join us.
Emunah Groups 2.0
Emunah groups have formed around a particular common interest and are welcoming new members. They meet approximately once a month.
Theater and music facilitated by Deborah Lupkin Ungar
Cooking/baking facilitated by Leona Chudy
Literature facilitated by Sharon Kern-Taub
Please email Abby Pitkowsky to be added to any of these groups.
Resources
Community Emergency Resource Guide
The Riverdale Clergy Conference has put together a document with resources for the community to utilize during this pandemic. The resources compiled in the document deal with many issues including domestic violence, worker's rights, childcare, financial needs, food assistance, housing, mental health resources, and more. Please click here.
Thu, May 19 2022
18 Iyyar 5782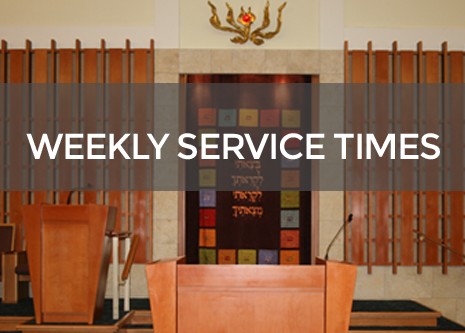 Friday, August 23, 2019
Minha/ Kabbalat Shabbat/Maariv, 7:00 PM
Afternoon/Shabbat Evening services.
~ Beit HaMidrash-Downstairs
Candle lighting 7:24 PM
Saturday, August 24, 2019
Shaharit, 9:00 AM
Morning service.
~ Sanctuary-Upstairs
Minha/Maariv, 7:24 PM
Afternoon/Evening services.
~ Beit HaMidrash-Downstairs

Havdalah, 8:24 PM
Zmanim
| | |
| --- | --- |
| Alot Hashachar | 4:42am |
| Earliest Tallit | 6:11am |
| Netz (Sunrise) | 9:34am |
| Latest Shema | 10:43am |
| Zman Tefillah | 10:43am |
| Chatzot (Midday) | 12:58pm |
| Mincha Gedola | 1:32pm |
| Mincha Ketana | 4:56pm |
| Plag HaMincha | 6:21pm |
| Shkiah (Sunset) | 7:46pm |
| Tzeit Hakochavim | 8:29pm |
Thu, May 19 2022 18 Iyyar 5782