Programming
For programs on Zoom, check your email for credentials or contact

office@csair.org

.
Israel Scouts at CSAIR
Friday, June 2 - Saturday, June 3
Israel Scouts joining CSAIR for programs throughout Shabbat.
....................................
Friday, June 2, Tzofim Israeli Scout Caravan Performance | 5:30 PM
Join us for a night of music, dance, and a multi-media performance for adults and children of all ages. The performance will be followed by Kabbalat Shabbat services and Shabbat dinner, including children's activities led by
the Israeli Scouts.

What's the Buzz in Israel?


Tuesday, June 6 | 8:00 PM
What's the Buzz in Israel? A pilot program with Debbie Uriel and Judy Kunoff who will share what they're hearing on Israeli podcasts.
Sponsored by the Israel Committee
Check weekly email for Zoom credentials
Lunch and Film Series at CSAIR


Thursday, June 8 | 12:30 PM
| Beit HaMidrash
Join us for our showing of the 2008 Israeli film, For My Father (Sof Shavua B'Tel Aviv), the next movie in CSAIR's free in-person Lunch and Film series. This movie raises the profound question of whether, in this case, a Palestinian terrorist, is capable of true change and can transform from an enemy into a friend. To RSVP, email Steve Gleit or call 917-679-7238.
Bagels, dessert, and coffee will be served, followed by screening and discussion at 1 PM.
Yoga and Meditation with Joy


Thursday, June 1, 8, 22 | 8:00 PM
| Beit HaMidrash
Yoga class for all levels taught by CSAIR Hebrew school teacher, visual artist, yoga instructor, and founder of the Yoga House of Joy, Joy Langer. You will learn poses from the ground up, focusing on alignment and breath work, restorative poses, as well as meditation.
RSVP here. $25 a person or $60 for three classes.
Click here to learn more about Joy Langer.
Must bring your yoga mat.
For ages 15 and up. Adults must accompany minors or have a consent waiver signed by an adult.
FREE NY Philharmonic concert in Van Cortlandt Park and Picnic


Tuesday, June 13 | 7:30 PM
Join Rabbi Katie Greenberg and members of the CSAIR community for an evening of free classical music and fireworks at Van Cortlandt Park. Bring a kosher dessert or some fruit to share and a picnic blanket starting at 7:30 PM. The concert will begin at 8:00 PM. Click here for more information about the concert.
Annual Congregation Meeting


Thursday, June 15 | 8:00 PM
Check weekly email for Zoom credentials
Hear an update about the finances of the shul, the state of the building, and an overview of our year together.
The nominating committee, led by Neal Spivack, has proposed the following slate of Board Members for three-year terms, running from July 2023 through June 2026:
Ephraim Edelman
Jacqueline Elias
Liba Kornfeld
Arthur Levy
David Nerwen
Abby Pitkowsky
Mitch Posilkin
Hadar Schwartz
Kevin Schreiber
Greg Solomon
Yoni Werlin
Marty Wolpoff
Criticism of Israel - Legitimate or Antisemitic
Saturday, June 24 | Following Kiddush
Shaya Lerner, Director of Israel Affairs at the Anti-Defamation League, will speak about criticism of Israel, when is it legitimate and when is it antisemitic. Several CSAIR college students may join this event to discuss their personal experiences on college campuses.
Sponsored by the Israel Committee

ONGOING PROGRAMMING
________________________
Pirkei Avot: The Ethics of Our Ancestors
with Rabbi Greenberg & Guest Speakers
Wednesday's
Teacher: TBA
On Zoom
(Check weekly email for the next upcoming session)
Join Rabbi Greenberg and guest teachers to study the last three chapters of the book together.
Sponsored by CSAIR Sisterhood.
Contact

office@csair.org

for Zoom credentials, or check your weekly email.
________________________
Nigun Wednesdays
Wednesdays at 7:25 PM
Please join our Cantorial Intern Gedalia Penner-Robinson for "Nigun Wednesdays" at evening minyan. We'll take just about five minutes prior to 7:30 PM minyan to learn a new song and briefly use it in the service.
________________________
Israeli Dancing
Thursdays at 8:00 PM
Israeli
folk dancing has resumed in person at CSAIR on Thursday nights. Ruth Goodman teaches new dances every week. Dancing starts at 7:45 and goes on until 10 PM. Send a message to the Israeli Dance Institute,
here
, to be included on the email list for weekly updates.
________________________
Yiddish Vinkl
Sundays, 10:00 AM
(approximately 90 minutes)
Enjoy the joys of Yiddish with a group that meets to schmooze together.
For more information and to confirm meeting dates, email
Charlie Goldfischer
.
________________________
Hug Ivri
Sundays, 11:00 AM
A Hebrew discussion group to talk about politics, literature, current events, and more.
For more information and to confirm meeting dates, email
Yaakov Taitz
.
Addressing Racism: Transforming Awareness Into Action
We hope to achieve greater sensitivity to and language for talking about racism but we also want to take concrete actions. We are on this journey together as a congregation. We hope to move forward thoughtfully, constructively, and with care. Whatever your knowledge base, background, or political affiliation, we are all learning together and we welcome you to join us.
Emunah Groups 2.0
Emunah groups have formed around a particular common interest and are welcoming new members. They meet approximately once a month.
Theater and music facilitated by Deborah Lupkin Ungar
Cooking/baking facilitated by Leona Chudy
Literature facilitated by Sharon Kern-Taub
Please email Rabbi Katie Greenberg to be added to any of these groups.
Thu, June 1 2023
12 Sivan 5783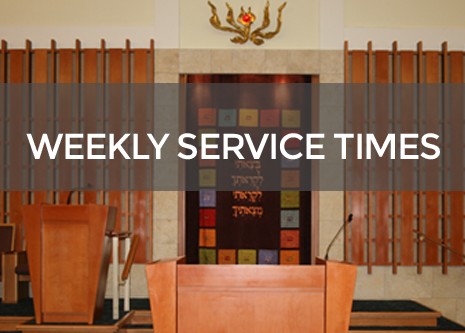 Friday, August 23, 2019
Minha/ Kabbalat Shabbat/Maariv, 7:00 PM
Afternoon/Shabbat Evening services.
~ Beit HaMidrash-Downstairs
Candle lighting 7:24 PM
Saturday, August 24, 2019
Shaharit, 9:00 AM
Morning service.
~ Sanctuary-Upstairs
Minha/Maariv, 7:24 PM
Afternoon/Evening services.
~ Beit HaMidrash-Downstairs

Havdalah, 8:24 PM
Zmanim
| | |
| --- | --- |
| Alot Hashachar | 4:42am |
| Earliest Tallit | 6:11am |
| Netz (Sunrise) | 9:34am |
| Latest Shema | 10:43am |
| Zman Tefillah | 10:43am |
| Chatzot (Midday) | 12:58pm |
| Mincha Gedola | 1:32pm |
| Mincha Ketana | 4:56pm |
| Plag HaMincha | 6:21pm |
| Shkiah (Sunset) | 7:46pm |
| Tzeit Hakochavim | 8:29pm |
Thu, June 1 2023 12 Sivan 5783