High Holidays
High Holiday Portal 2019/5780
Calling all Gabbai Volunteers
We are looking for 8-10 people who can take shifts as gabbai on Rosh Hashanah or Yom Kippur. We will pair an experienced gabbai with a new volunteer. There will be two trainings in September and the opportunity to shadow an experienced gabbai on Shabbat mornings. Interested? Email Amy Leveen, amy@leveen.com or find her at services.
Skills Training workshop
Sunday, September 22 at 10:00 AM in the Sanctuary to learn and practice for the first time or review skills for taking any honor during services -- opening the Ark curtain, holding and carrying a Torah, taking an Aliyah, doing Hag-bah (lifting the Torah) or Gellilah (dressing the Torah).
Musaf in the Library
During the Musaf service on the first day of Rosh Hashanah, we will offer an
alternative service in addition to the service in the Main Sanctuary and the Taub Room. Led by Barry Stern, an experienced Baal Tefillah/prayer leader, the service will offer an intimate, lay-lead prayer experience. Largely in song and punctuated by a few, brief commentaries on the liturgy, without interruption. With open seating, congregants are invited to come at any time during the service and lend their voices to what will be a warm, contemplative, and inspiring prayer experience. Location: The Bette and Phil Baum Library. Date: First day Rosh Hashanah. Time: After Rabbi Katz and Rabbi Linden's sermons. (Approximately 11:30 AM) Who: Open to anyone attending services at CSAIR.
No special tickets are necessary!
Lulav & Etrog Orders
Please place your order no later than Wednesday, October 2.
Pick-Up Dates:
Friday, Oct. 11, 9:00 AM - 1:00 PM Sunday, Oct. 13 9:30 AM- 1:00 PM
High Holiday Service Schedule
Start the new year here with ancient and new melodies,
holy words, quiet moments,
old and new friends, and the sounds of the shofar…
Without you, our New Year would not be as sweet!
L'Shanah Tovah!
Rosh Hashanah
Monday, September 30 - Tuesday, October 1
S

anctu

ary

Taub Room

Library

Tent

Hebrew School

Beit Midras

h

Board Room

8:30 AM
Pesukei D'zimra*
Day I All Minyanim

8:30 AM
Pesukei D'zimra*
Day II All Minyanim
Open for quiet
reading
and
meditation

9:00 AM




Shacharit


Day I
Arthur Levy

Day II
Barry Stern

9:00 AM
Shacharit
Day I
Walter Tolub

Day II
Esther Bezborodko
10:30 AM - Noon
Family Service
(Adults & Ages 6-10)
Mason Voit
10:30 - 11:30 AM
CSAIR Kids
(Ages 0-6)

10:30 - 11:30 AM
Pre-Teen Service
(Ages 11-13)

10:45 AM
Shofar

10:45 AM
Shofar
11:00 AM
Sermon
Day I
Rabbi Barry Dov Katz
Day II
Rabbi Ethan Linden

11:00 AM
Sermon
Day I
Rabbi Ethan Linden
Day II
Rabbi Barry Dov Katz
11:30 AM
Musaf
Day I & Day II
Cantor Stevens

Adon Olam &
Mass Blast!
11:30 AM
Musaf
Day I & Day II
Nahum Binder

Adon Olam &
Mass Blast!

11:30 AM - 12:30 PM
High Holiday
Lounge
Rabbi Greenberg
Day 2 only

11:30 AM - Noon
College/
Post College
Meet and Greet
Day I only
Rabbi Barry Dov Katz
Board Room
Noon - 1:00 PM
Teen Service
(Ages 14-18)
Minha Maariv RHI*
6:22PM

Minha Maariv RHII*
6:21PM
Minha Maariv RHI*
6:22PM

Minha Maariv RHII*
6:21PM

All time are approximate!

*Indicates Open Seating

Color Key
Is this service for me?

Everyone

Parents & Children

Pre-Teens/Teens

Adults/Teens

College/Post College
Join the community for Tashlich, symbolically casting our sins into the water, at 4:45 PM on Monday, September 30.
Meet at SAR Parking Lot (254th and Independence Avenue.) for the service there then, those who are able, will walk down to park behind Riverdale Metro North Station.
Erev Yom Kippur
Tuesday, October 8
6:08 PM
Kol Nidre
7:00 PM
Children's Program ages 6-10
Beit HaMidrash
Following Services
Shirah B'Kippur
Library
---
G'mar Hatima Tova!
Yom Kippur
Wednesday, October 9
S

anctu

ary

Taub Room

Library

Tent

Hebrew School

Beit Midras

h

Board Room

9:00 AM
Pesukei D'zimra*
Day I All Minyanim

9:00 AM
Pesukei D'zimra*
Day I All Minyanim
Open for quiet
reading
and
meditation

9:30 AM




Shacharit




Esther Bezborodko




9:30 AM




Shacharit




Barry Stern

10:30 AM - Noon
Family Service
(Adults & Ages 6-10)
10:30 - 11:30 AM
CSAIR Kids
(Ages 0-6)

10:30 - 11:30 AM
Pre-Teen Service
(Ages 11-13)

11:45 AM
Sermon
Rabbi Ethan Linden
11:45 AM
Sermon
Rabbi Barry Dov Katz
Noon - 1:00 PM
Teen Service
(Ages 14-18)

12:15 PM
Yizkor

12:15 PM
Yizkor


12:45 PM
Musaf
Cantor Stevens

Adon Olam &
Mass Blast!
12:45 PM
Musaf
Nahum Binder

Adon Olam &
Mass Blast!
12:45 - 1:15 PM
College/
Post College
Meet and Greet
Day I only
Rabbi Barry Dov Katz
Board Room

1:30 - 2:30 PM
High Holiday Lounge Rabbi Greenberg*

3:00 PM




Study Sessions




3:00 PM




Study Sessions

4:20 PM




Minha




4:20 PM




Minha

5:50 PM




Neila




5:50 PM




Neila

7:20 PM
Fast Concludes
(Break-fast in Tent)

All time are approximate!

*Indicates Open Seating

Color Key
Is this service for me?

Everyone

Parents & Children

Pre-Teens/Teens

Adults/Teens

College/Post College
Sat, September 21 2019
21 Elul 5779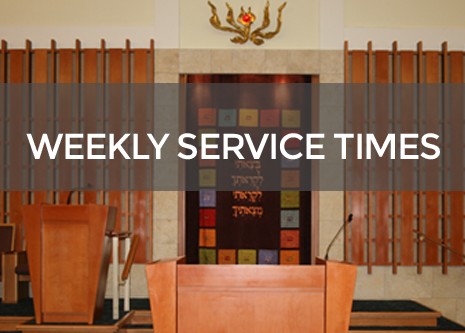 Friday, August 23, 2019
Minha/ Kabbalat Shabbat/Maariv, 7:00 PM
Afternoon/Shabbat Evening services.
~ Beit HaMidrash-Downstairs
Candle lighting 7:24 PM
Saturday, August 24, 2019
Shaharit, 9:00 AM
Morning service.
~ Sanctuary-Upstairs
Minha/Maariv, 7:24 PM
Afternoon/Evening services.
~ Beit HaMidrash-Downstairs

Havdalah, 8:24 PM
Zmanim
| | |
| --- | --- |
| Alot Hashachar | 4:42am |
| Earliest Tallit | 6:11am |
| Netz (Sunrise) | 9:34am |
| Latest Shema | 10:43am |
| Zman Tefillah | 10:43am |
| Chatzot (Midday) | 12:58pm |
| Mincha Gedola | 1:32pm |
| Mincha Ketana | 4:56pm |
| Plag HaMincha | 6:21pm |
| Shkiah (Sunset) | 7:46pm |
| Tzeit Hakochavim | 8:29pm |
Sat, September 21 2019 21 Elul 5779